Full Service Interior Design & Project Management
For our full services clients, Modern design Homes provides turn key interior design and decoration services from concept to completion. This service is for people who value self expression in their homes and want to incorporate bespoke details, local artisans and custom design concepts. We believe busy families and professionals should be welcomed by a beautiful home that supports their lifestyle!
What to expect during Full Service Interior Design and Project Management:
Step 1 | Initial Client Meeting
Meet to discuss your project scope, goals, timeline, and budget.
Step 2 | Design Agreement and Retainer
Soon after the initial client meeting you will receive a design agreement that outlines fee structure, policies and procedures. Along with signing the agreement you will be required to pay the retainer fee. If there are two decision-making adults in the household both parties will be required to sign the agreement. Once the signed design agreement and retainer are received by Modern Design Homes Interiors, we will more forward to the next step.
Step 3 | Scheduling
A time-table is developed for each step of the design process; purchasing, ordering, work to be done by trades, and final installation. This schedule will be presented to you during the kick-off meeting and adjusted along the way if unforeseen circumstances arise. A separate detailed schedule will be developed for any renovations and trades work.
Step 4 | Kick-off Meeting
The design kick-off meeting normally occurs within two weeks after the design agreement is received. During this meeting we will review design requirements, inspiration, personal aesthetic and schedule. Blueprints or CAD files of the new or existing space will be provided by the owner, or detailed measurements will be taken to create floor plans.
Step 5 | Space Planning
Carefully considered space planning is crucial to a well-designed space. With accurate measurements on hand we will develop floor plans for each room. Floor plans allow us to determine what can fit in a space, how it is arranged and the scale of each piece. They can include furniture, flooring, cabinetry, plumbing fixtures, art location ideas, etc.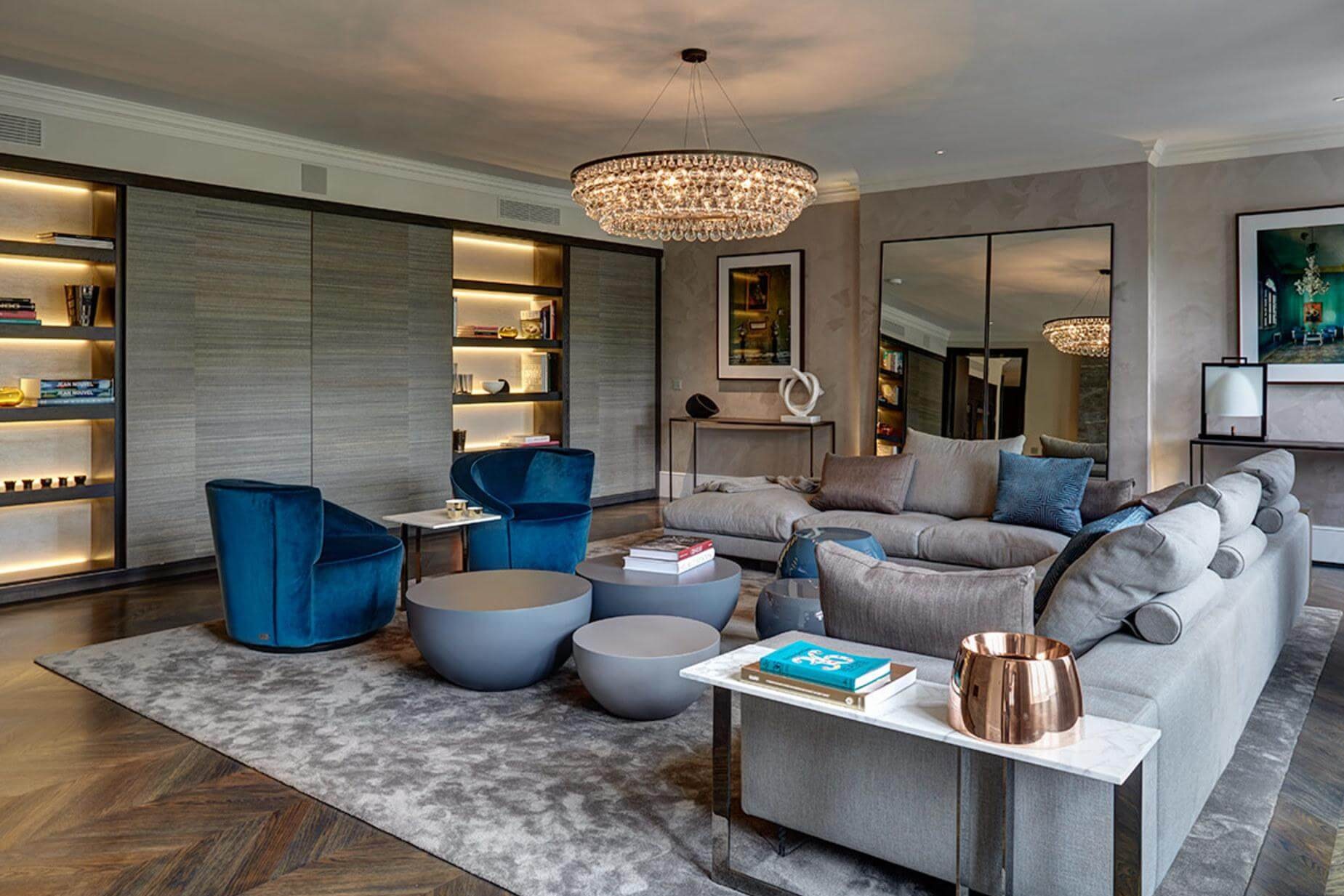 Step 6 | Design Scheme
Once we have decided on a floor plan, the next step is to create the design scheme. This starts with developing a color palette and sourcing fabrics, furniture, fixtures and materials. Custom furniture and built-ins are designed and finishes chosen. Materials for flooring, counters and cabinetry are selected. Wall and floor coverings are considered. Window treatments are designed and fabrics, trims and hardware are chosen. A lighting plan is developed. Quotes and pricing are researched and cataloged. In other words, this is where it all comes together and every detail is considered. Throughout this step we will contact you regularly to discuss different elements of your design. Clients will also receive a weekly update via email on the status of their project.
Step 7 | Presentation and Sign Off
Once the design scheme is ready a presentation meeting will be scheduled. All decision-makers must be present for this meeting. We will go through the design in detail and you will be presented with fabrics, drawings, photos and samples for each element in the design. By this stage, we should have a complete design scheme that meets your approval. You will also be given a budget outlining the cost of each item.
Step 8 | Proposals and Purchasing
Before any trades are hired or items are purchased on your behalf you will receive a proposal that details the work to be done or item to be purchased along with all known associated costs. (Freight and delivery are usually billed separately). Proposals are the safety net to make sure we stay on the same page throughout the design execution and nothing gets purchased without your approval.
Step 9 | Trades Work Begins
If there is work to be done by trades the contractor will schedule this as soon as possible. We oversee the work to make sure the design is executed properly in accordance with the design intent.
Step 10 | Follow Up
Throughout the design process we manage the project and stay on top of the details. We will crosscheck to make sure work by trades is underway or has been satisfactorily completed, all concerns have been addressed, furniture ordered, payments made, schedule on track, and no detail overlooked.
Step 11 | Installation, Styling and Photography
Delivery and installation of furniture, window treatments, rugs, accessories and art begins. This is where vision becomes reality! Installation for an entire home usually takes a week and we prefer clients remain off site until the last detail is in place.
Step 12 | Client Reveal
With every last detail installed it's time to celebrate! We walk through your new space together and marvel at the transformation!